We had Gordie Howe for 25 seasons in Detroit; Steve Yzerman, for 22. That's 47 wonderful falls, winters, and early springs of hockey, folks.
Yet there's a David Letterman-like gap between those teeth that should never have been.
In between Howe, who played for the Red Wings from 1946-71, and Yzerman (1983-2006), there was little Marcel Dionne. Marcel was only here for four seasons, before he all but begged the Red Wings to get him out of town.
In a way, you really couldn't blame him. Dionne was, on too many nights, one of the precious few reasons you'd bother showing up for a Red Wings game at Olympia Stadium. He wore the Winged Wheel from 1971-75, and those weren't exactly the "good old days" of Detroit hockey.
But the Red Wings caved in, acquiesced to Dionne's whining, and then got fleeced in the trade after all.
Dionne was, indeed, little. He stood all of 5-foot-8, and even that was debatable. He was a French-Canadian, born in Drummondville, Quebec and a member of the Ontario League's St. Catharine's Black Hawks when the Red Wings snatched him with the second overall pick in the 1971 amateur draft. And instantly, he revived the franchise.
The Red Wings, in Howe's last season, floundered. It was a season of turmoil, initiated when the team mysteriously hired college coach Ned Harkness. By the time Howe was ready for Retirement #1, GM Sid Abel had quit, Harkness was promoted to take Abel's old job, and the Red Wings were dead last in their division and in total disarray.
Enter Dionne, with his slick stick handling and pinpoint passing. That, and he was as quick as a jackrabbit on the ice – elusive and as slippery as the surface on which he skated so effortlessly and with such an abundance of energy. His nickname, coined by teammate Mickey Redmond, was Little Beaver, for his size and his perseverance.
Red Wings fans had never seen anything, in a Detroit uniform, quite like Dionne. There was talk that if anyone could make the folks in the Motor City get over the loss of Howe fast, it was Marcel Dionne.
"He's creative," his coach, Johnny Wilson, said during Dionne's rookie season. "He forces his teammates into openings. And he does everything you ask him to do."
In his rookie year, Dionne played in all 78 games and scored 28 goals, with 49 assists. He was 20 years old. And the Red Wings improved from 55 points to 76 points, barely missing the playoffs.
In year two, Dionne was even better: 40 goals, 50 assists. And the Red Wings improved again, going from 76 points to 86 points. Dionne had been with the Red Wings for two seasons, and in those two years, they leaped 31 points upward. But once again, the playoffs barely eluded their grasp.
In year three, Dionne "slumped" to 24 goals, 54 assists. The Red Wings, as a team, slumped even more. They dropped by 18 points.
Then came the crucial fourth year. The year in which the Red Wings, and Dionne, fouled things up for good.
In the off-season, coach and GM Alex Delvecchio made Dionne, all of 23 years old, his captain. As if that wasn't enough pressure, the team made Dionne switch uniform numbers, from no. 5 to no. 12 – Sid Abel's old number.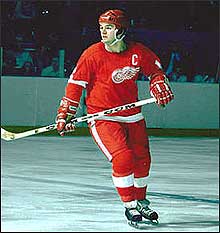 Captain Marcel Dionne, circa 1974-75
Yet despite that added focus, Dionne positively thrived. He had his breakout season: 47 goals, 74 assists, for a mind-boggling 121 points, a new team record.
But all was not right with Dionne, or the Red Wings.
First of all, the team dipped again, dropping another ten points to 58 – or just three more than what they had when Dionne arrived in 1971. So no wonder that Marcel felt as if he was simply skating in place.
Secondly, Dionne wasn't shy in letting management know that skating in place wasn't what he signed up for when he joined the NHL.
Even while posting those jaw-dropping numbers, Dionne and Delvecchio clashed. Dionne clashed with some teammates, too. But mostly, Marcel Dionne clashed with losing. He fancied himself a winner, and the Red Wings were moving further and further away from being a winning organization.
The Red Wings weren't used to players who had the audacity to speak their mind. And when confronted with them, their reaction was usually recalcitrant. Gary Bergman, a serviceable defenseman for the team for years, had his moments with the suits. Bergie even quit the Red Wings for a few days in the middle of an on-ice fit at practice. He skated off the ice, dressed and left, and dropped out of sight for a bit. Carl Brewer was another who raised a stink, back in the late-1960s.
But mostly, the Red Wings had the good fortune of employing players who kept their traps shut. Yes, the sarcasm is intended, if not dripping.
In the summer of '75, Dionne wanted out of Detroit in the worst way. And Red Wings management, stubborn to a fault, didn't do much, if anything, to dissuade him. Money, of course, was one of the issues. Dionne wanted a lot more of it; the Red Wings were reluctant to open their wallets. Forget that they had a jewel in Dionne, albeit among a bunch of fool's gold pieces. Forget that, had they worked with him a little bit and listened, they might have been able to keep him in employ for the next decade. Forget that they never had a player with the flash and panache of Marcel Dionne – ever. He whined, and they treated him with petulance, instead of with maturity.
Dionne was traded to the Los Angeles Kings, mainly because the Kings agreed to rework Marcel's contract to the tune of $300,000 per year, a pretty heady number for a hockey player in those days. In return for their 121-point man, the Red Wings received Dan Maloney, a tough forward but hardly a big-time scorer, and veteran (read: OLD) defenseman Terry Harper. That's it. It was as if the Red Wings were more eager to get rid of Dionne than he was to leave in the first place.
With the Kings from 1975-87, Dionne scored over 500 goals, including a stretch where he scored 50+ goals in five straight seasons. He finished his career with the New York Rangers in 1989, and ended up with 731 career goals. Only 139 of them were scored as a Red Wing.
Those 500+ pucks that Dionne put in opposing nets could have, should have, been scored as a Red Wing.
Then the genealogy would have been Howe to Dionne to Yzerman.
We can only imagine.