Some coaches are their own factories.
"Factory" might seem like an odd word to apply to an individual; it's usually used in reference to universities and their ability to churn out a particular type of football player. Penn State with linebackers, Michigan with offensive linemen. You know.
But what to call the coach who churns out other coaches? A human Pez dispenser?
Returning to football, the genealogy in modern coaching can basically be started by placing Bill Walsh and Bill Parcells at the top of the tree, and trickling the names down their respective branches, until you reach all the assistants and head coaches in today's NFL.
It may be far too early to anoint Red Wings coach Mike Babcock as a tree starter, but then again, maybe not.
Babcock's genius -- yeah, I'm using that word; so sue me -- is that he's able to keep a very talented and potentially satiated team hungry and interested through the boredom that every 82-game regular NHL season includes. And he does it without having to play twisted mind games, like one of his recent predecessors used to do.
There was the first-year hiccup -- that 2006, first-round exit at the hands of the Cinderella-like Edmonton Oilers. Even Babcock himself admitted that he underestimated the level of pressure there was to win in the playoffs in Detroit. Or maybe he
over
estimated the ability of goalie Manny Legace to carry a team through the post-season. Regardless.
But since then, the Red Wings have regained their status as the most feared and respected team in the league.
The 2007 team was
thisclose
to making it to the Cup Finals, were it not for a flukey goal at the end of regulation in Game 5 against the Anaheim Ducks. The 2008 team wasn't seriously threatened beyond the 2-2 tie in the first round against Nashville on its way to the Stanley Cup.
And now? 29-7-5, and just now getting the mojo back. Another 55-60 win season beckons.
Ahh, but what about those San Jose Sharks, you might ask?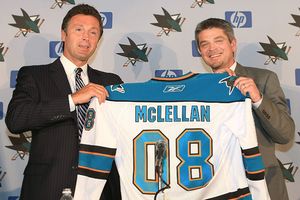 We'll see how much McLellan (above) has learned from Babcock (top) come playoff time



The Sharks are 30-5-5 -- ridiculous and Red Wings-like -- and their new coach should get a lot of the credit.
The new coach is Todd McLellan, and he's a Babcock disciple -- only adding to Babcock's genius (yep, I used that word again).
McLellan will be coaching the Western Conference All-Stars in Montreal on January 25, and Babcock will assist him. It's role reversal from their time together in Detroit (2005-08), when McLellan, along with Paul MacLean, aided Babcock.
Chuck Daly spawned several head coaches in the NBA while he was in Detroit. Dick Harter, Ron Rothstein, Brendan Suhr, and Dick Versace all went on to helm their own teams after leaving Daly's womb. So we've seen it before around these parts.
Funny, but Scotty Bowman wasn't much of a coach spawner. In fact, hardly at all -- and the last Bowman assistant to try, Dave Lewis, has been canned twice within the past three years (Detroit and Boston). Then again, Scotty wasn't much for grooming coaches. He spent most of his time controlling his players. Whatever works, right? All of his fingers are adorned with championship rings.
Babcock is slowly becoming known as a dean of sorts when it comes to coaching in the NHL. If the Red Wings capture another Cup, this might be his best job of all. It will have meant, from Day One, a commitment to keep the troops from being hungover, and will cement his reputation as a hockey maestro who's able to keep everyone in tune from September thru June.
If he continues to spin-off coaches onto other teams, his place will be even more secure.
Let's just hope that McLellan didn't learn TOO much, come playoff time.