It was the summer of 1984, and Tigers manager Sparky Anderson was musing, as usual. This time he had one of Detroit's ink-stained wretches beside him.
"See that flagpole out there?" Sparky said, pointing to the famous, in-play pole deep in Tiger Stadium's center field. "That's where they'll be hanging me, if we don't win this thing."
The 1984 baseball season was, in ESPN terms, an "instant classic" to the folks around Motown. It was fun. It was magical. It was a feel-good summer, capped off by a World's Championship.
Fun for everyone, it was later revealed, except for Sparky.
He wrote it in his book, They Call Me Sparky. The Tigers zoomed out of the gate at a record-breaking pace – their won-lost soared to an almost unbelievable 35-5 after 40 games – and for ole Sparky, there was only one way to go. Down. Which meant that HE would go up – up on the flagpole, hanged. The feared hanging made it into the book.
The '84 season, Sparky wrote, was among his least favorites. For the record, one of his most favorites came three years later, when the Tigers rose from the ashes of an 11-19 start and captured the AL East flag thanks to a wild, wonderful final week in which they overtook the Toronto Blue Jays – who held a 3-1/2 game lead on the Tigers with eight games to play.
But 1984? Sparky was tormented, he wrote. How could the Tigers NOT win the whole thing after such a start? All season he gnashed his teeth and looked at the flagpole in center field, harboring ghoulish thoughts, apparently.
It's 25 years later, and what is it about us as a people that we fawn over the nice, round anniversary number? Last year was 24 years. Next year will be 26. Heaven forbid we recall the 1984 season at any other time than now – a quarter century later. The Silver Anniversary of the Tigers' most recent World Series title.
Some random thoughts….
The Tigers gave it a good shot in 1983, but the Baltimore Orioles were too tough. The '83 Tigers won 90 games and had the makings of being a contender for several years. But one smarmy, acerbic TV broadcaster was having none of it.
Acid Al Ackerman loved to smirk. He loved to sneer. And that was to the camera. You should have seen the looks he gave his interview subjects as he jabbed a microphone in their faces.
So the Tigers are trying to make a race of it in '83, but during one treacherous streak, Acid Al gets sarcastic. He loved to do that, too. The Tigers finally won a game to break the losing spell, and Acid Al sneers, "Bless You, Boys!" in a manner that was hardly meant to be encouraging. He kept dragging the sarcastic expression out, whenever the Tigers would win one during the losing spells.
Bless You, Boys!
And Acid Al kept doing it, into the 1984 season. But by this time, the good folks in Detroit had taken Ackerman's sarcasm and turned it around on him. People were saying "Bless You, Boys!" in the most supportive, fervent way possible: calling it from their car windows, yelling it to their neighbors across the street. Lance Parrish would hit a three-run home run, and you could almost hear a city's baseball fans cry, in unison: "Bless You, Boys!" It ended up on bumper stickers. Hell, it practically became the team's official slogan: Bless You, Boys!
Take THAT, Acid Al!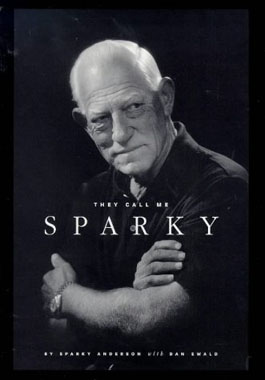 In this book, Sparky says he feared he'd be hanged if the Tigers didn't win the 1984 World Series
More random thoughts…
It's near the end of spring training, and the Tigers have a dilemma: too many position players, not enough beef in their bullpen. They have righty Aurelio Lopez, but his arm had gone kaput in 1983. There were other incidents of arm trouble for Senor Smoke in the past, too. The Tigers were a little nervous about who would close their games.
So GM Bill Lajoie pulls off a stunner of a trade in late-March. He deals outfielder Glenn Wilson, never a favorite of Sparky's, and catcher/first baseman/DH Johnny Wockenfuss, a fan favorite, to the Philadelphia Phillies. In return, the Tigers get first baseman Dave Bergman, who had a slick glove, and left-handed reliever Willie Hernandez.
With that move, Bill Lajoie simply wins the 1984 World Series for the Tigers.
Hernandez goes bananas as the Tigers' closer, winning both the AL MVP and Cy Young Awards. Bergman plays stellar defense – he saved Jack Morris's no-hitter in Chicago with his glove work – and contributes some key hits along the way.
More random thoughts…
It's before a game against the California Angels at Tiger Stadium, and I, as a fill-in, cub reporter for the Michigan Daily, am on the field. I can't help but notice that Reggie Jackson has broadcaster Joe Garagiola in stitches. I mean, Garagiola can't stop laughing at whatever the heck Jackson is saying to him. I inch closer, trying to eavesdrop. Garagiola is laughing so hard his face is red and he's practically convulsing. I edge closer. Then, Jackson catches me and glares me back to my original location. I still don't know what he said to Garagiola to elicit such an uproarious reaction.
Some more…
The Tigers are playing the Indians at Tiger Stadium in late-April, and I'm downtown, too – watching the Pistons take on the New York Knicks in the decisive Game 5 of their first round playoff series, inside warm, humid Joe Louis Arena. It's the series where the Knicks' Bernard King goes bonkers, averaging over 40 points per game. And it's the game where Isiah Thomas scores 16 points in the final minute-and-a-half, erasing an eight-point Knick lead and sending the game into overtime. The Pistons lose, and we go out for some pops afterward to drown our sorrows. I stumble into the house – it's past by now – and the Tigers are still on the radio. They're engaged in a 19-inning affair with the Indians. The Tigers lose, too.
Oh, and I was in attendance for the World Series-clinching Game 5. And no, I'll never forget what Kirk Gibson's moon shot into the right field upper deck looked like from my spot in the center field bleachers. Nor will I forget the swatches of turf being tossed into the bleachers after the game, appearing over the rail like magic, from nowhere.
But it wasn't until 14 years later, when Sparky's book came out, that I learned how terrible the '84 season was for him. Would they really have hanged Sparky from the flagpole if the Tigers didn't win it?
Best not to ever know, I suppose.