Of all the things Matt Millen has said as Lions president and GM, I believe there is one that would ring true in just about every fan's ear:
"Charlie Sanders belongs in that Hall of Fame, too, by the way."
The words were uttered, in tossaway fashion, Friday on Stoney & Wojo's radio show on WDFN (1130 AM). The subject was the induction of Millen's old coach, John Madden.
"I'm going down [to Canton]," Millen said. "Charlie Sanders and I are going down there."
Sanders, the best tight end in Lions history, now works in the team's front office.
Then Millen put in his two cents about Sanders before continuing on about Madden.
You can't Fire Millen based on his feelings about Charlie Sanders, at least.
They finally put Lem Barney in a while back, and that was overdue. The "other" Sanders -- Barry -- was a no-brainer. He was inducted in 2004.
But Charlie Sanders, the third and only other Lions player of his era deserving of Hall status, remains out in the cold. Some have told me Robert Porcher should be enshrined. Porcher was a fine player, but that might be a stretch. Not so with Sanders.
Sanders, out of Minnesota, joined the Lions in 1968, along with QB Greg Landry. It was during some salad days of Lions drafts. In '67, Barney and Mel Farr were drafted. Then the next year, Sanders and Landry.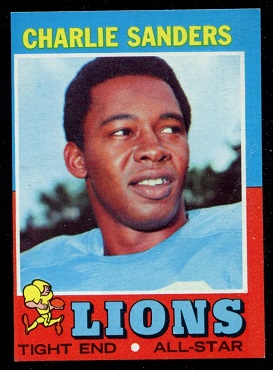 In ten seasons as a Lion, Sanders caught 336 passes for 4,817 yards (14.3 yds/rec) and 31 touchdowns. Those may not be eye-popping numbers nowadays, but Sanders was a tight end when that position required more than catching passes. You had to block in Sanders' day, for starters. Today teams carry multiple tight ends: a blocking guy, a pass-catching guy, and a special teams guy. Three-headed monsters, and still Charlie Sanders trumps most of them, combined.
The albatross of playing for the Lions in a dismal era hurt Barney for years, until the voters came to their senses. In Barry Sanders' case, he could have played his entire career without a victory, and he would have been inducted. And now it appears to be dragging Charlie Sanders down, too.
Sanders only caught an average of 2.6 passes per game during his career, but they were some of the hardest, most spectacular, and rugged 2.6 catches you'll ever see. There are folks who still talk sbout the 1970 Thanksgiving Day Game, to show you.
The Lions fell behind the Raiders quickly, 14-0. Then Landry and Sanders went to work. Not once, but twice, Sanders made an acrobatic, mind-numbing catch for a touchdown. I can still see the one touchdown: cutting across the middle, diving so he was almost parallel to the turf, Sanders brought the ball into his chest as he landed in the end zone, bumping against the goalpost (they were still on the goal line back then). It was one of the greatest catches in team history, I'm willing to bet you.
Matt Millen got one right -- you have to give him that -- when he made his throwaway comment about Charlie Sanders and the Hall of Fame.